LogiTag Systems recognized by magazine as "An annual listing of 50 companies that are in the forefront of providing IoT solutions and impacting the marketplace
Company: LogiTag Systems
Description: Provides markets intelligent, best-in-class
RFID solutions and systems for tracking,
monitoring, and managing inventory, assets,
and people.
Key Person: Shlomo Matityahu, Founder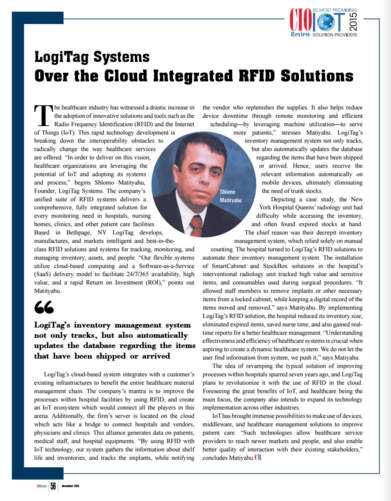 'Connectivity' is a pioneering idea that has revolutionized the technological landscape. Right from basic telephonic systems to advanced wireless accessories, everything revolves around an initiative to craft a connected world. Amid this large arena of connectivity, lies the booming landscape of Internet of Things (IoT) that has spread its wings to foster a whole new era of intelligence.
Realizing this crucial need of intelligence, today's enterprises are embracing the concept of IoT to significantly improve business performance, profitability, and customer experience. Retailers, warehouse systems, and manufacturers have already employed IoT within their workspace and are experiencing benefits of the connected world.
In spite of its current limited coverage, experts of the IT industry foresee high demand for IoT deployments in the coming future. All along this growth is the emerging trend for Edge Computing in the field of IoT. Edge computing is an idea where one captures, processes and stores the information locally. This allows organizations to filter out the inconsequential messages while also augment the value of existing data. The other advantages include—deployment of smaller and simplified sensors and application of security at a local level.
Citing these innovative trends and expansion of IoT, the necessity for competent IoT solution providers has increased immensely. Subsequently, a number of companies have achieved distinction in delivering these services. In the last few months, we have come across hundreds of IoT solution providers and shortlisted some of the pioneering companies who have helped manufacturers, retailers and several other enterprises in tackling the IoT's impediments. We present you 50 Most Promising IoT Solution Providers 2015.
The healthcare industry has witnessed a drastic increase in the adoption of innovative solutions and tools such as the Radio Frequency Identification (RFID) and the Internet of Things (IoT). This rapid technology development is breaking down the interoperability obstacles to radically change the way healthcare services are offered.
"In order to deliver on this vision, healthcare organizations are leveraging the potential of IoT and adopting its systems and process," begins Shlomo Matityahu, Founder, LogiTag Systems.
The company's unified suite of RFID systems delivers a comprehensive, fully integrated solution for every monitoring need in hospitals, nursing homes, clinics, and other patient care facilities. Based in Bethpage, NY LogiTag develops, manufactures, and markets intelligent and best-in-the class RFID solutions and systems for tracking, monitoring, and managing inventory, assets, and people. "Our flexible systems utilize cloud-based computing and a Software-as-a-Service (SaaS) delivery model to facilitate 24/7/365 availability, high value, and a rapid Return on Investment (ROI)," points out
Matityahu.
LogiTag's cloud-based system integrates with a customer's existing infrastructures to benefit the entire healthcare material management chain. The company's mantra is to improve the processes within hospital facilities by using RFID, and create an IoT ecosystem which would connect all the players in this arena. Additionally, the firm's server is located in the cloud which acts as a bridge to connect hospitals and vendors, physicians and clinics. This alliance generates data on patients, medical staff, and hospital equipment.
"By using RFID with IoT technology, our system gathers the information about shelf life and inventories, and tracks the implants, while notifying the vendor who replenishes the supplies. It also helps reduce device downtime through remote monitoring and efficient scheduling—by leveraging machine utilization—to serve more patients," stresses Matiyahu.
LogiTag's inventory management system not only tracks,but also automatically updates the database regarding the items that have been shipped or arrived. Hence, users receive the relevant information automatically on mobile devices, ultimately eliminating the need of trunk stocks. Depicting a case study, the New York Hospital Queens' radiology unit had difficulty while accessing the inventory, and often found expired stocks at hand. The chief reason was their decrepit inventory management system, which relied solely on manual counting.
The hospital turned to LogiTag's RFID solutions to automate their inventory management system. The installation of SmartCabinet and StockBox solutions in the hospital's interventional radiology unit tracked high value and sensitive items, and consumables used during surgical procedures. "It allowed staff members to remove implants or other necessary items from a locked cabinet, while keeping a digital record of the items moved and removed," says Matityahu. By implementing LogiTag's RFID solution, the hospital reduced its inventory size, eliminated expired items, saved nurse time, and also gained realtime reports for a better healthcare management. "Understanding effectiveness and efficiency of healthcare systems is crucial when aspiring to create a dynamic healthcare system. We do not let the user find information from system, we push it," says Matiyahu. The idea of revamping the typical solution of improving processes within hospitals spurred seven years ago, and LogiTag plans to revolutionize it with the use of RFID in the cloud.
Foreseeing the great benefits of IoT, and healthcare being the main focus, the company also intends to expand its technology implementation across other industries. IoT has brought immense possibilities to make use of devices, middleware, and healthcare management solutions to improve patient care. "Such technologies allow healthcare service providers to reach newer markets and people, and also enable better quality of interaction with their existing stakeholders," concludes Matiyahu.