LogiTrack - RealTime Location System (RTLS)
LogiTrack is an RFID based Real-Time Location System (RTLS) that provides hospitals, nursing homes, and clinics a method to accurately track, locate, and monitor assets and people, and trigger events in real time based on location and status.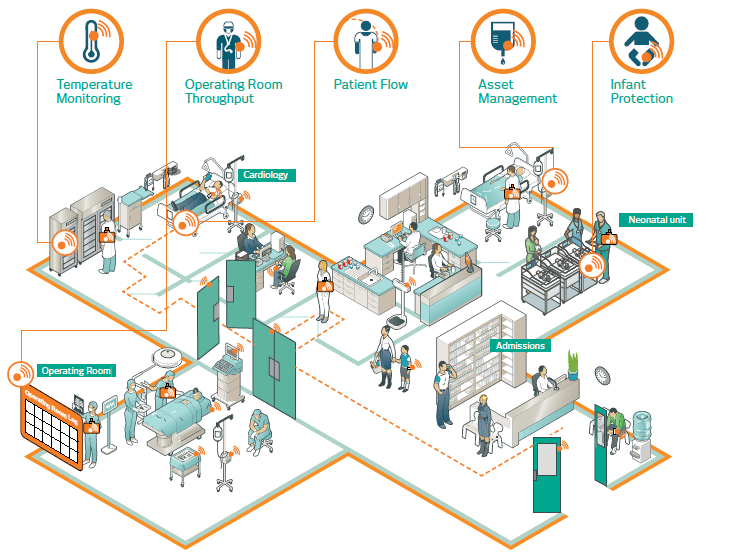 It can be used to manage mobile assets, monitor patients, locates staff, call nurses, and monitor temperature and/or humidity. Depending on the conditions, LogiTrack may activate alarms based on configurable business logic and lock doors. It can produce local or remote alerts (text messages, e-mails) for informed, real-time decision making.
The RFID based system, with its cloud-based platform, can be managed from any Web-enabled device. LogiTrack presents a leading end-to-end solution for medical equipment and asset management.
LogiTrack Applications include:
Tracking with LogiTrack
LogiTrack relies on LogiTag's advanced active RFID platform for asset management and equipment monitoring. It allows healthcare organizations to maximize operational efficiency of existing infrastructure and network while meeting regulatory requirements. Tags are customized for the specific application: staff/visitor security (emergencies), infant tracking, at-risk patient tracking (wandering, distress), equipment status, security and location, temperature or humidity monitoring (in ORs, labs, storage rooms, delivery carts).
The LogiTrack Advantages
Ensures staff hand hygiene compliance
Increases visibility in the ER and OR
Improves equipment utilization
Prevents infant abductions
Keeps patients/residents safe
Increases staff safety
Automates collecting and reporting of temperature and humidity data
Contact LogiTag for information about how your healthcare organization can make LogiTrack part of your lean healthcare management system.