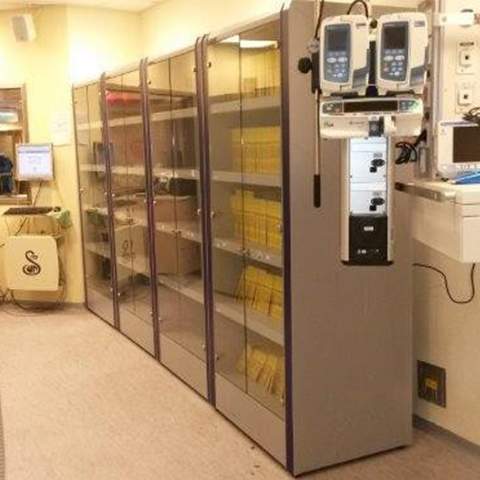 Sheba Medical Center Implements LogiTag's RFID Solutions Across the Entire Hospital's Operating Rooms
Virtual and physical SmartCabinets installed inside the hospital, tracking high-cost medical devices in over 20 operating rooms, enabling precise and efficient item-level inventory management and patient billing.
July 1st, 2014 – LogiTag Systems, a leading provider of RFID solutions and high-value inventory management systems, announced today the successful installation of the SmartCabinet in at Sheba Medical Center's operating rooms and cath-labs. The RFID technology replaces a bar-code system, now creating a unified platform that recognizes the entire vendor spectrum and communicates directly with the hospitals' ERP system – impossible to perform beforehand. Reports can now be sent directly to vendors, distributors, and manufacturers giving the entire supply chain an accurate view of inventory levels, usage, and status of their high-cost medical devices. The solution also presents a suitable infrastructure for full consignment in the future, where hospitals will only pay for the medical devices used.
The Sheba Medical Center is a university-affiliated tertiary referral hospital that serves as Israel's national medical center in many fields. Adjacent to Tel Aviv, it is the most comprehensive medical center in the Middle East, renowned for its compassionate care and leading-edge treatments.
Today, the Sheba Medical Center combines six major facilities: a vast medical research complex, medical education academic campus, acute care hospital, children's hospital, women's hospital and the country's main rehabilitation hospital.
The decision to install the RFID solution was made directly by the Medical Center's management, realizing the numerous benefits it brings to the hospital including: One standard platform for the entire product serialization and data; in depth – online- visibility of high cost items including delivery, storage, consumption all connecting to the medical procedure record including billing; and eliminated expired or lost items.
SmartCabinet combines LogiTag's patent-protected RFID technology with point-of-use reporting and a simple user interface for real-time tracking and managing of stents, implants, and other high-value devices. As soon as a device is removed from its shelves or dedicated location, SmartCabinet immediately records and tracks the item for automated inventory management that not only saves valuable time in the OR but greatly improves medical-device follow-up (for example, in the case of product recalls by the manufacturer).
"We are proud to have our RFID solutions used by yet another leading hospital," Said Shlomo Matityaho, CEO of LogiTag Systems. "The fact that Sheba chose to install the solution throughout the hospital is confirmation of the growing market trend to use our technology for creating a unified language between the many vendors, types of devices, and software applications. If everyone associated with the hospital (i.e. vendors, nurses, logistics, and patients) can understand the data in unified method, efficiency grows and better care is provided. I look forward to continue catering healthcare facilities in this growing trend."
SmartCabinet will be showcased at the upcoming #AHRMM2014 event in Orlando, Florida, along with LogiTag's entire RFID solution suite for lean healthcare management.