High availability of medical stock
Over 33% one-time inventory reduction
20 hours labor cost savings per month, per supply room
No waste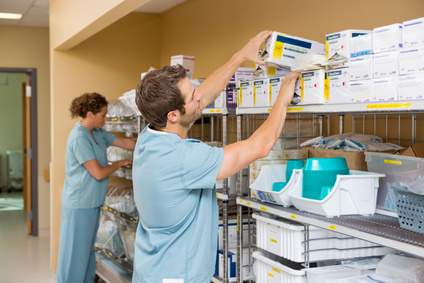 Millions of low value, high access items, are consumed daily at hospitals and healthcare facilities. These disposable items include tubes, gloves, syringes, pads and more. Nurses using them are normally tight on time and need to grab the item and go back to care for the patient.
How can these items be managed efficiently, without overstocking or understocking? How can medical staff grab-and-go without worrying about registering the items used?
The most common supplies management methodology is PAR, especially in North America. It means that inventory levels are set for certain points, and materials staff ensure these levels are always up to PAR.
LogiTag RFID based solution suite was created to overcome supply management challenges, especially experienced with the PAR methodology, through automatic KANBAN tools. The migration to automatic KANBAN leads to a drastic decrease in waste, at least 33% of one-time inventory reduction, decreased labor costs in management, increased supply room space.
Benefits to hospitals:
33% one-time inventory reduction
No waste - Dramatically lower labor costs
Increased room space
Ease of use
Better patient care
Automatic charge capture